Aimee O'Callaghan, DIT's student affairs manager and PleaseTalk's steering committee chairperson shares her account from the 2013 forum.
The Pleasetalk Forum took place at DIT Kevin Street on 14 June. Bringing together student support staff, welfare officers and students from across the country to network and make their PleaseTalk plans for 2013-2014.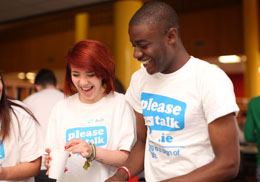 Over 60 people were there to get information on the PleaseTalk service and brainstorm new ideas. There was great input and shared experiences from college campuses. Top priority was given to how best to spread the PleaseTalk message to colleges nation-wide.
Interaction
A highlight of the day was an address from Gerry Raleigh, the new director of the National Office of Suicide Prevention (NOSP). Gerry welcomed and encouraged ideas and feedback from anyone involved with youth mental health. It was an opportunity to connect first-hand with the NOSP.
In the afternoon a panel discussion was chaired by DIT campus life manager Brian Gormley. Participants included Ruth Baker, a Headstrong ambassador; Barbara Dooley from UCD; Aisling O'Grady, one of the Founders of Please Talk, and Denise McCarthy the welfare officer from the Union of Students in Ireland.
"Challenges and opportunities of mental health in third level" was the discussion. There was great energy and input from the audience, demonstrating the passion for getting our mental health strategies right.
The enthusiasm from the forum and interest in new membership to the steering committee is an exciting time for PleaseTalk. As chairperson of the steering committee I deal with students everyday and am really excited for the year ahead.
Let's get talking
Finally, I want to say the PleaseTalk message is very simple and something we should consider including in everything we do: societies, training, class rep meetings, rag week etc.
Whether you're a student, or a staff member with an interest in mental health promotion, the PleaseTalk message and service is available for you to share.
Feedback and dates for the diary
If you missed the forum and have anything you'd like to share, please contact us. We'll be finalising details for 2013-2014 soon so please forward any ideas you have by 19 July.
PleaseTalk materials will be sent out in August. Contact us to see where they will arrive on campus and if you want help in considering how to promote the message.
On 13 November the PleaseTalk candlelight events will take place around the country. Could your college take part?
5 March, 2014 we will celebrate seven years of PleaseTalk. Mark it in your diary, and maybe your college can host an event?
We will launch more details of events, support and advice over the coming months. If you want information or have queries please email us at [email protected] .