About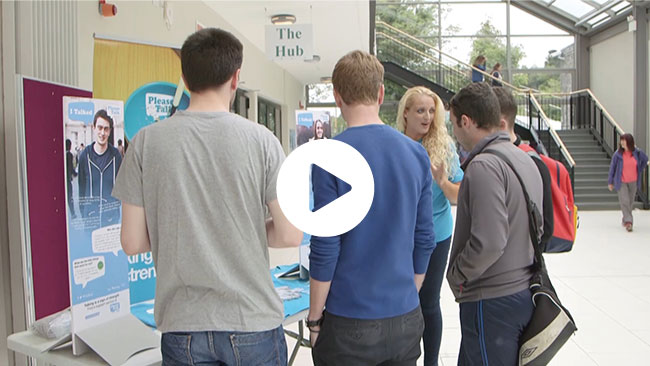 Please Talk is Ireland's student-led mental health movement. Please Talk urges students to understand that talking is a strength not of weakness, and if you're experiencing problems while at college, there are people there who you can talk to. It promotes this message through a collaborative effort involving the various support services present in colleges up and down the country such as: chaplains, counselors, student support officers, students' unions, disability support services and many, many more.
If students experience problems at home, college, or in their private lives, they can log on to www.pleasetalk.org select their college and identify what services that are available that they might want to access. Please Talk is supported by the HSE through the National Office of Suicide Prevention, and is part of the National Mental Health Strategy.
Please Talk was first launched in January 2007 in UCD. It was in response to the deaths of a number of students by suicide in the student populous. Since it began, Please Talk has grown to reach 27 colleges throughout Ireland already, and thanks to funding from the National Office for Suicide Prevention, we are hopeful that Please Talk will have a home on every campus throughout Ireland, and the campaign's message will become synonymous with being at college.
The Please Talk message is conveyed to students in a number of ways, including: through a range of branded materials (badges, t-shirts, pens, posters, and fliers), by organising events and initiatives such as comedy events, balloon launches, and celebrity visits, and by getting the Please Talk brand and logo included in printed and online materials being produced on campuses.
Anyone can get involved with Please Talk either by wearing a badge or t-shirt, organising events or initiatives on campuses to encourage students to talk about their problems, or by contacting us directly at [email protected].