#ITalked by Student Ambassadors Goes on Display on Campuses Nationwide

Six students, each with a personal message to tell about their health today joined together to realize the first of its kind mental health exhibit that will tour college campuses to encourage openness around mental health. More than simply telling Irish students to talk, the Please Talk #ITalked campus tour will, for the first time, feature the messages of students who have been through a tough time and realised the power of talking.
This ground-breaking series will coincide with the often stressful period of deadlines and exams in April and May 2015 and is being hosted in 5 colleges across Ireland. These are UCD, TCD, DCU, UCC and NUIG.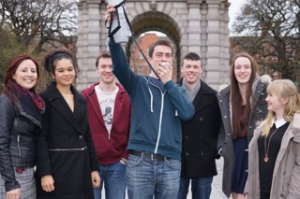 Treasa Hanniffy our Please Talk Officer explains "We often hear that we need to talk more about mental health but nothing is more effective than hearing these real students break the mould with their very real stories about having been through it and being able to talk openly about it. It is this authenticity that will reassure other students that its ok not to feel ok and show a credible example of our Please Talk motto talking is a sign of strength."
Let's hear from Ian Mooney, TCD who contributed to the campaign  "'Going public' with my own story was a no-brainer for me. I decided to tell the world via Facebook. Once I did, the level of support was incredible. People I never would have expected to started opening up to me about their own mental health problems and we were able to help each other out.
"Talking isn't an easy thing to do. It's quite daunting. But once you let it out, it's completely worth it."
 In support of the National Office for Suicide Prevention's Little Things campaign, the #ITalked student ambassadors are aiming to give the issue of mental health a human and relatable face and provide tangible examples of practical actions that other students might find useful.
Checkout our blog series by the #ITalked ambassadors and the complete listing of on-campus support services on pleasetalk.org.