Send Silence Packing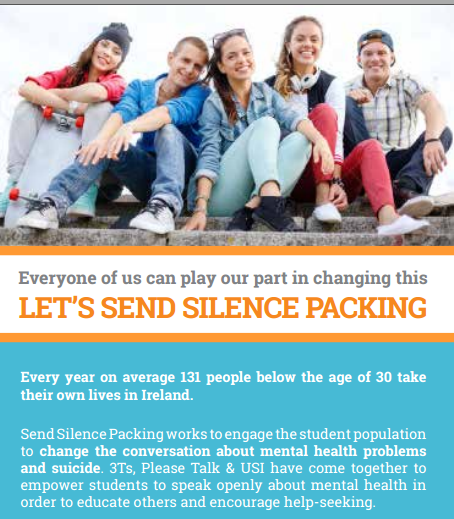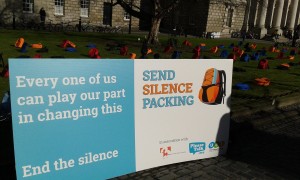 Send Silence Packing
3ts (turn the tide of suicide), Pleasetalk.org and the Union of Students of Ireland launched their collective campaign 'Send Silence Packing' on Monday 22nd February at Trinity College Dublin.  The initiative includes a public display of 131 backpacks, representing the average number of college students who die by suicide in Ireland each year. Send Silence Packing is designed to raise awareness about the impact of suicide, connect students to mental health supports and inspire action for suicide prevention.
Today's initiative was the first activity of its kind with further similar events planned for other colleges around the country including Athlone IT and NUIG in the coming weeks.
"Send Silence Packing is a clear opportunity to start a conversation about suicide prevention and for our participating advisors to speak with students as to how they might broach the topic of suicidal crisis" according to Scott Ahern of 3Ts.  "Our messages are simple - 1. Be there for someone by simply listening   2. Reach out when times are tough 3. Find your on-campus and off campus support services at Pleasetalk.org."
"We're delighted to join forces with Pleasetalk.org and the Union of Students of Ireland for this initiative – we all share the same concerns regarding the numbers dying by suicide each year in Ireland and realise that by working together our messages will hopefully garner more attention and help those in suicidal crisis".
"Talking to someone we trust is often the hardest step to take but the most crucial step" according to Treasa Hanniffy, Pleasetalk.org "This initiative highlights the need for us to send silence packing and tackle the stigma attached to mental health and suicide which prevents young people from reaching out and seeking help."
"It is necessary to recognise the opportunity to influence attitudes to mental health and suicide prevention amongst students. The stigma surrounding mental ill health prevents people from coming forward and seeking the help and support they need.  We are delighted to partner with 3Ts and Please Talk for this campaign. We want students to know that it is ok not to feel ok but that help is always available and all you need to do is ask! We also need those who hope to be our next leaders to recognise the importance of investment into mental health services and their fundamental importance to students in need." Aoife Ni Shuilleabhain, Vice President for Welfare for USI.
The 'Send Silence Packing' programme was originally started in America by ActiveMinds – they collated data following each display which revealed that individuals leave the display wanting to learn more about mental health. 91% of survey respondents rate the display as powerful or very powerful and 83% reported that it is educational. Evaluations also demonstrated that the majority of visitors tell 3 or more people about Send Silence Packing and many reach out to a friend in need or seek help for themselves.