Chats for Change Campaign to Get Students Talking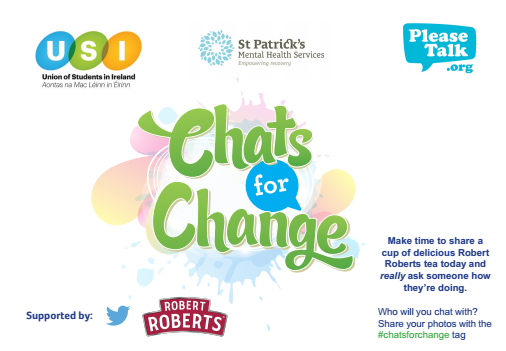 Please Talk and its partners launch annual 'Chats for Change' to get students talking about mental health: research shows 41% increase in third level students seeking counselling
Please Talk, St Patrick's Mental Health Services and the Union of Students in Ireland will launch the annual "Chats for Change" national mental health campaign on 7th November 2016 to get Irish students talking about mental health. 
In partnership with Robert and Robert's, thousands of "Chats for Change" tea packs will be distributed across college campuses nationwide to encourage conversation about mental health. The "Chats for Change" tea packs also include tips on taking the fear out of talking about mental health and useful support service contact details aimed at encouraging students to make time and space to talk about their mental health while enjoying a cup of tea.
Recent research by AHEAD (Association for Higher Education Access and Disability) shows a 41% increase in students seeking counselling and that staff cutbacks result in six month waiting lists to see counsellors in third level colleges.
Talking ahead of the launch of Chats for Change 2016, Please Talk Campaign Coordinator Treasa Hanniffy said "We at Please Talk are delighted to roll out the Chats for Change campaign again. The campaign hopes to remind students that by having a cup of tea and asking someone if they are OK can have such a positive impact on a person's mental health and well-being. We want students to understand that talking is a strength not a weakness. By talking we realise we are not alone and don't need to suffer in silence as there are supports available, we just need to have the courage to start the conversation."
A chill-out zone will be in place in each of the campuses taking part. Students can get packs, pick up mental health literature and find out about support services available in the chill-out zone.
A survey will be conducted during the campaign where third level students will be asked about their mental health perceptions, stigma and accessing support services in a third level setting. Those who enter will be in with a chance to win one of four €50 One4All Vouchers. You can access the survey at the following link: https://www.surveymonkey.com/r/ChatsforChange
The Chats for Change campus tour will include interactive and educational information stands and expert advice from Please Talk and St Patrick's Mental Health Services. The Chats for Change campus tour will be visiting the following colleges:
Galway Mayo Institute of Technology (Galway Campus) 7th Nov

Limerick School of Art and Design 8th Nov

National University of Maynooth 9th Nov

Institute of Technology Blanchardstown 10th Nov