GMIT Students Sign Up For First Ever Triathlon As Part Of New Mental Health & Well-being Campaign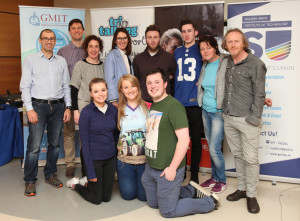 Six GMIT students who are not actively involved in sport or daily exercise have signed up to take part in Lough Cutra Castle Triathlon in
May, as part of a major campaign to boost students' mental health and wellbeing through sport.
The campaign was launched in GMIT this week (Monday 6 February 2023) by GMIT lecturer and artist Lynne O'Loughlin in collaboration with the Galway Triathlon Club, two GMIT student societies (Culture and Wellbeing Society and the Mental Health Society), the GMIT School of Science & Computing, the GMIT Centre for Creative Arts & Media, Kingfisher Club (Renmore) and The Hurt Locker.
The six students are Wesley Williams from Co Monaghan who is studying Contemporary Art, Irene Naughton from Galway city who is studying a BA in Design, Adam Curry from Tuam who is studying Computing & Digital Media, Rachael Maloney from Creggs, Co Galway, who is studying Sport & Exercise Science, Mark O'Brien, Vice President of GMIT Students Union and culinary arts graduate, and Niamh Jones who is studying Contemporary Art.
"Our six students have no experience of racing, training or competing in a triathlon and have been leading unhealthy lifestyles and routines, having put other priorities first in the past few years," says Lynne O'Loughlin. "But now they want to regain fitness, good physical and mental health and overall wellbeing and be an example to their fellow students and friends."
"They will be getting the best advice, support and training plans from professional coaches in the Galway Triathlon Club, the Kingfisher (Renmore), the Hurt Locker and from our own academic staff here in GMIT's School of Science & Computing and the Centre for Creative Arts & Media."
The GMIT academic staff supporting the students, some as coaches, mentors and training co-ordinators, are Dr Debbie Corcoran, lecturer in Medical Science who is also a member of the Executive Committee of Galway Triathlon Club, Robert Mooney, lecture in Sport & Exercise Science, Dr Luca Mirimin, lecturer in Marine Science, Dr Lisa Ryan, Head of Natural Science Dept and Sport & Exercise Science, Jim Vaughan, lecturer in the Centre for Creative Arts & Media, and Lynne O'Loughlin who has been competing in triathlons for many years.
Dr Debbie Corcoran, says:  "As a staff member and member of Galway Triathlon Committee I am delighted to be involved in this campaign. Exercise is a huge part of my life and to be able to offer my support and advice to our six students in training is very gratifying. There are so many benefits to physical exercise, not only having a fit and healthy body, but also a fit and health mind".
Sue Redmond, GTC Chairperson, says "We are delighted to be part of this initiative as it really helps to spread the word amongst students about not only the importance of physical activity and goal setting, but the very real benefits of social support and emotional wellbeing that come from being part of a group".
"Far too many young people don't feel they have that support from their networks and it is a great opportunity for them to see that you can develop a supportive network by trying something different, pushing outside your comfort zone and reaping the benefits both physically and mentally".
A documentary will be filmed about the campaign including interviews and footage of the six students' efforts. A social media campaign will also=document their activities, thoughts and progress. For further information contact [email protected]