Order Your Green Ribbons NOW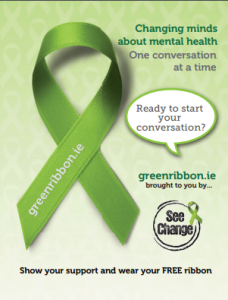 See Change, the National Stigma Reduction Partnership and our 90 partner organisations are rolling out a month long national Green Ribbon Campaign to get people talking openly about mental health problems in May 2017. Please Talk is See Change's youth programme and is Ireland's student-led mental health movement.
More than 500,000 green ribbons will be distributed nationwide free of charge to spark a national conversation about mental health in boardrooms, break-rooms, chat rooms, clubhouses, arts venues, college campuses and around kitchen tables throughout Ireland. Our aim is to make the month of May every year synonymous with promoting open conversation of mental health and challenging the stigma of mental health problems.
This year  See Change, Please Talk and USI are collobarating to bring the Green Ribbon campaign to campuses. If you want to organise an event and get involved throughout the month of May just get in contact. You can order your ribbons here:  http://bit.ly/2iZ71CI